Red Knight: The Dark Ace Fanlisting

Welcome to the APPROVED fanlisting for the super-hot villain from the brand-new animated series, Storm Hawks. I know you all love Dark Ace, so hurry up and join!





Site Stats
Last Update: September 06, 2020
Total Members: 67
Webmistress: Lizzie

Latest Update
We have a new fanart submitted by Touga Rian!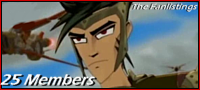 Disclaimer

Storm Hawks and everything else related to it are property of Nerd Corps. I'm not affiliated with them in any way, and I am making no money off this fanlisting; it is just for fun.